iSyllabus aims to develop the next generation of active citizens and faith-inspired thought leaders in the West through transformative Islamic education programs.
Our program is the thinking person's pathway to studying the Islamic sciences.
Our vision is to spark a revolution in the provision of Islamic education, developing upright individuals—well-informed of their faith—ready to deal with the challenges of their societies.
To achieve this, the courses we offer at iSyllabus provide students with a clear and authentic presentation of the Islamic faith, laying the groundwork for extensive lifelong learning. The result is an Islamic studies program that spans over three levels, with each level having a well-defined educational outcome.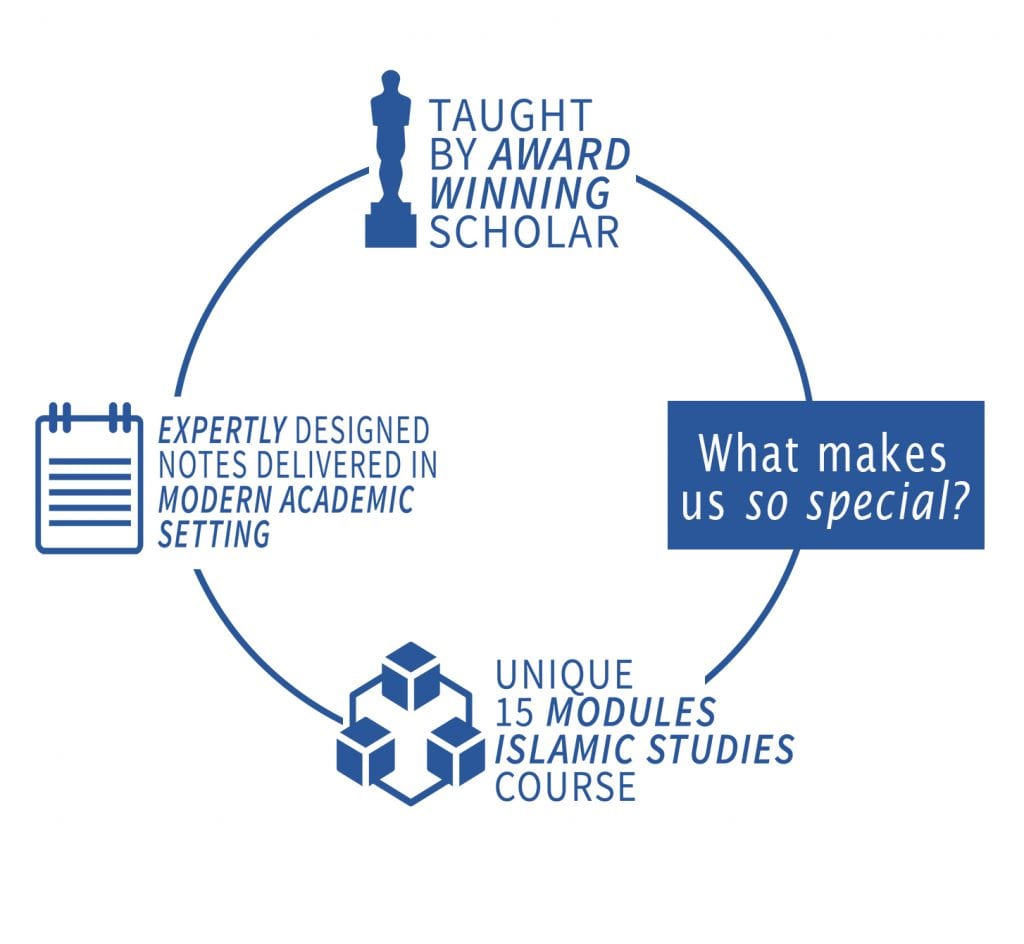 "Masha Allah excellent course Even though I was bought up in this country with the full five day 2 hours every day teaching of islamic studies this course gave me a complete different insight on many of the topics Jazakallah Khair to all the shaykhs and organisers"
"The course has helped me develop myself as a practising Muslim. It helped me make sense of a lot of things I learnt as a child and I feel like the course has helped me improve myself greatly. I would recommend it."
"Packed full of useful information and taught by engaging, learned shuyukh - the course is well structured and the lessons are thorough in all respects. The constant linking back to how the content is relevant everyday is eye-opening and has hugely enriched my understanding of my faith"
"The iSyllabus One Year Diploma Course is full of essential learnings for people of any level of Islamic knowledge."
"Modern and diverse range of subjects covered in so much detail. Explained from a very basic level so you never feel judged for not knowing about it beforehand and you leave well equipped with the relevant knowledge and evidence.. and material to refer back to."
I joined iSyllabus as a way of 'touching base,' once a week whilst I had moved away to complete my secular studies. I was working full time and simultaneously studying for my PGCE whilst attending iSyllabus, which in all honesty, kept me feeling grounded during that intense year. It was so refreshing just to sit and let the day's worries and trouble drop whilst focusing in class. It's a learning experience, as one not only obtains sacred knowledge, but also learns a lot of the self (and subsequent self development) in the process. I'd like to sincerely thank the teachers, the volunteers and the admin for all their efforts this year. God bless you all."