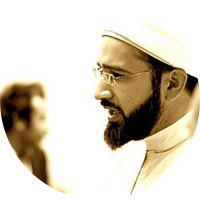 Shaykh Ruzwan Mohammed
Glasgow, Scotland
Shaykh Ruzwan Mohammed is a Sunni theologian and scholar. A graduate in Geopolitics and Arabic from the University of Glasgow, in 1993 he left to travel and study with a wide array of leading scholars and theologians in various countries in the Muslim world. In the process, he studied the Turkish language at the University of Ankara and as part of his formal Islamic training, he graduated from the Fat'h Islamic Law College in Damascus, graduating from the prestigious 6-year program with a distinction of merit, achieving overall first position in his year of graduation from the college.
In the summer of 2009, he co-founded the Solas Foundation, which focuses on offering quality and transparent religious consultancy in the areas of Islamic ethics and education. He is the author and educational director the iSyllabus Islamic studies program.
He is a regular panellist on shows such as BBC One's "The Big Question", BBC radio 4's religious analysis  programmes, and is a contributor to national Scottish newspapers and magazines. He is currently engaged in research into the effect of textual hermeneutics and environment on Islamic legal ethics, and is working on a study and translation of an early juristic text by the Spanish philosopher Averroes. He also serves as an advisor to various Muslim educational organisations in the United Kingdom and is actively involved in interfaith work, as well as wider social issues. He was tasked with the responsibility of drafting the 'Edinburgh Declaration', launched in 2018, on the shared ethical values between Christianity and Islam in the area of finance and wealth creation.
Both he and Shaykh Amer Jamil were awarded the 'Religious Advocate of the year Award' at the British Muslims awards in 2014.