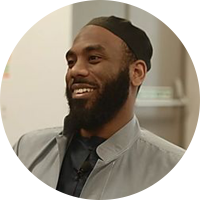 Shaykh Bilal Brown
Manchester, England
Bilal Brown travelled the Middle East and studied with prominent scholars from all over the Muslim world for a period of roughly 8 years. He taught Islamic Jurisprudence and other subjects in Arabic to Arabs and non-Arabs.
Bilal Brown accepted Islam in 1999 and went to study Arabic in the Middle East in 2004 where he became fluent within 6 months. He returned to the UK in 2006 and left again in 2008 to study Islamic Sciences. He graduated from 4-year intensive 6-day a week, all-year round accelerated course in Shari'ah studies at the Al-Dawli Institute of Arabic and Islamic Sciences in Damascus in 2012 in addition to studying privately with scholars in Damascus. He then went to Yemen to further his studies in Shafi'i jurisprudence, Arabic grammar and self-rectification. Bilal Brown returned to the UK in November 2014.
He also has 2 years of experience working in the field of alcohol and drug addiction as well as several further years of experience working with and teaching young people. He has studied several texts in the Hanafi and Shafi'i schools of law and marriage and divorce law in the Maliki School. He also has certificates in childcare, IT, social science, and counselling.
He currently teaches Arabic and Islamic sciences in Oldham, Rochdale, Manchester, & online in England in the UK and is also the Director of the popular website Fiqh Answers which is an online source for Islamic Jurisprudence. www.fiqhanswers.com