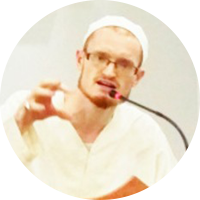 Shaykh Amin Buxton
Edinburgh, Scotland
Amin Buxton was born in London. He converted to Islam in 1999 and read Arabic and Islamic Studies at SOAS, University of London. He also studied the Islamic sciences in a traditional setting in both Syria and Yemen.
He has edited and translated a number of books which include Imam al-Haddad's 'Beneficial Counsels' and Umar al-Khatib's 'Prophetic Guidance'.
Since 2017 he has resided with his family in Edinburgh, Scotland. He is involved in several educational and social initiatives including New to Islam Edinburgh and Rafah International.